I bought Simplicity 1283 when it was first released (back in '14?) and by the time I got to making it, my measurements said I needed to move up to the larger packet size! haha! Lesson learned, sew patterns when you get them! Anyway, the fit on Mimi is definitely why I purchased the pattern (both times).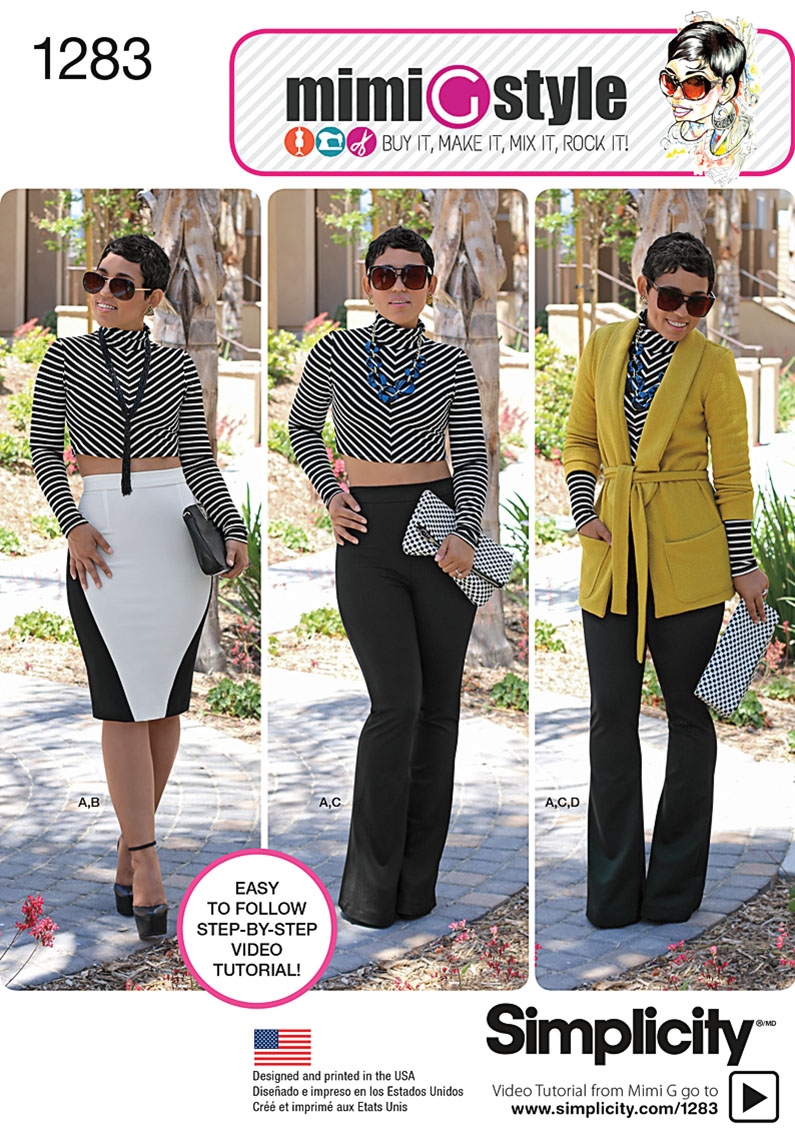 I determined my size using the pattern chart. My measurements are: 33″ High Waist and 41″ hips. I cut a size 18 out of Ponte knit fabric. I found the youtube sew-a-long very helpful and did not use the pattern instructions at all.
Initially, I used a basting stitch to roughly put the pants together. I had already started the fit process on my left leg when I snapped this picture:
I found the fit through the legs to be over all too large, compared to the envelope picture. As I have both size range envelopes, I decided to compare the patterns. The larger sizes seem to be graded with a less extreme curve through the knee. I'm guessing this has something to do with standard sizing, but it does explain why I had more of a straight leg look.
Next time I am going to use a more structured knit. I don't like how it drapes below the knee in the front.
In the end, I was very happy with this pattern and will sew it again. I did take it in quite a bit (also in the darts, and waistband), I think I can size down with success. I do expect to need to fit patterns for my unique body and am happy that the only changes needed were slimming it down.
Don't forget this is a HIGH waist pattern. Personally, I love it, but I will likely take it down another half inch in the rise next time.
Final result:
THE NITTY-GRITTY:
Pattern Description: Mimi G Style + Simplicity 1283
Pattern sizing: choose envelope: 6-14 or 16-24.
Did it look like the photo/drawing on the pattern when you were finished sewing? Yes
Were the instructions complete and easy to follow? I followed the YouTube sew-a-long
Fabric used: Ponte
Did you use the recommended fabrics in the pattern: Yes
Did you alter the pattern in any way? Yes. I moved the rear zip to a side zip, just because it is my preference. I am 5′-2 and took my standard height adjustment out of the rise and I shortened about an inch in the thigh. (I left the rest long to account for 5″ heels). I took in from hips to knee significantly to achieve the look of the pattern cover.
Was there anything you disliked or would change? I only wish there wasn't quite so much ease, but this is an issue for me with most patterns (be they paper or .pdf)
Would you sew it again? Yes
Would you recommend it to others? Yes
Do you consider the pattern beginner/intermediate/advanced? Beginner to Intermediate
Pants: Do the front and back have separate rises? Yes
Seam allowance used in the pattern? 5/8″
Here is how I am styling them in my everyday life. haha!